References AXIWI
The AXIWI communication system is a wireless full duplex and handsfree communication system. Six people can simultaneously communicate with each other by the open line connection, just like a telephone conversation. The communication system is used for communication during tours, conferences, meetings, sports, translating simultaneously and calamities.

On this webpage you will find some relevant references.
Good to know:
Referees judges the
AXIWI with an 8,1.
96% of the referees
recommends AXIWI.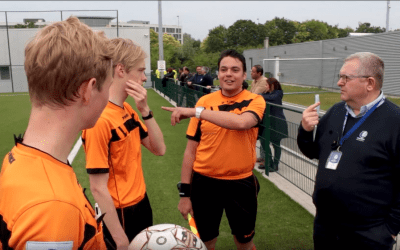 The KAA Gent Referee Acadamy keeps fulfilling its role as an innovator and educator of young soccer referees. This time with the innovative AXIWI wireless communication systems (often called headsets) for the coaching of young referees. By using the headsets, with the...