This contribution is written by Mireille den Hoed, owner of TAKT Academy & Training Stable
I am Mireille den Hoed, owner of TAKT Academy & Training Stable. I have been giving private riding lessons for over 35 years and have used a wireless instruction set for at least 15 years. I have been doing this with a so-called talk-back function for the last five years. This way, I don't have to shout all over the Arena to give instructions, and the rider and I can easily communicate. Yet there was often trouble. In our 20-by-60-meter outdoor Arena, the receiver interfered when the rider was in the back. To prevent interference, only 2/3 of the tank was used. And that's a pity because I love driving long, straight lines!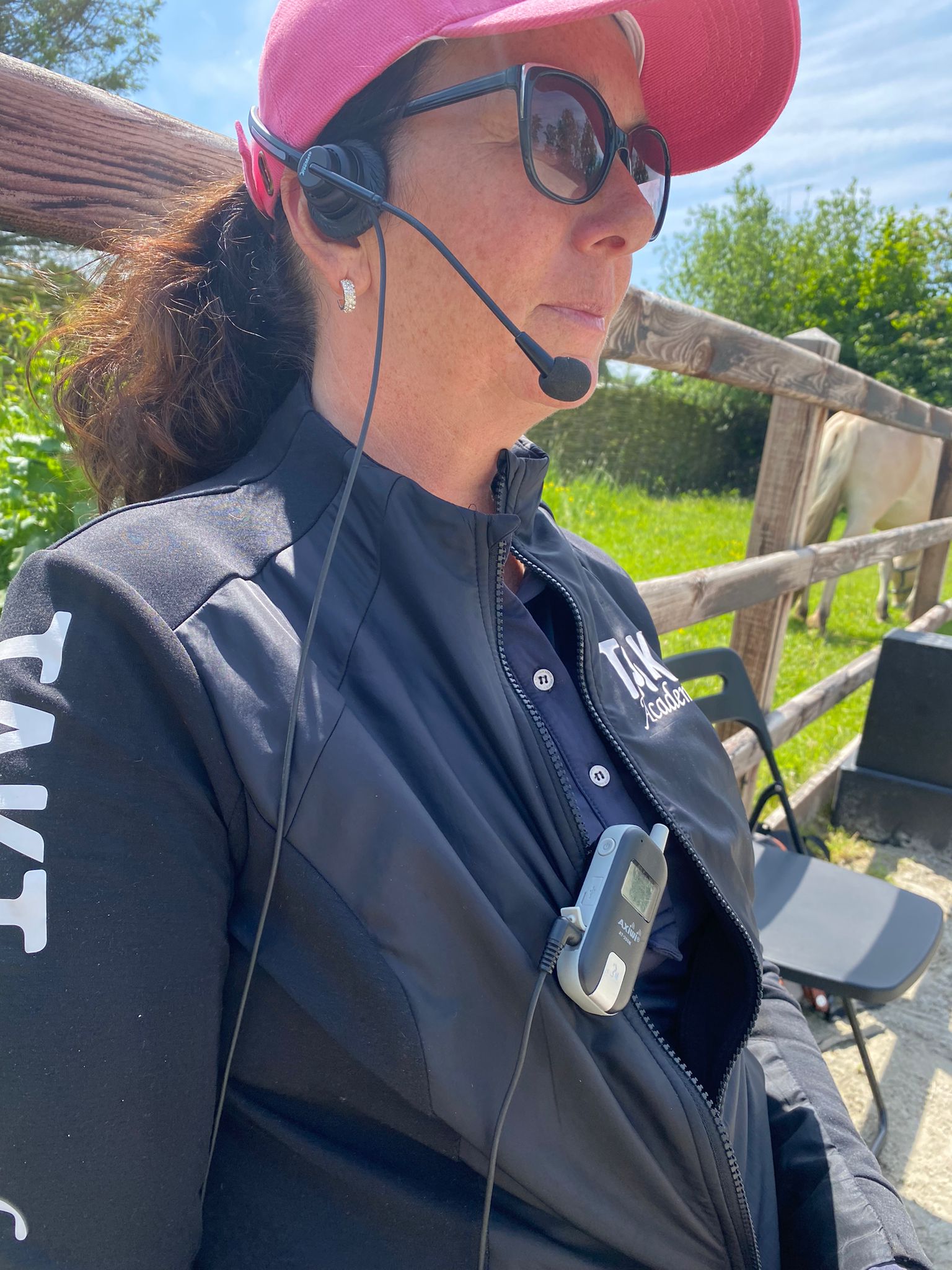 Horse riding instruction set
Since I use the AXIWI units, I no longer suffer from this. These units have a range of up to 300 meters, so 60 meters from our lane is no longer an issue. And an additional advantage is the clear sound, without noise, which also improves communication considerably. In addition, the earpieces of the headsets last much longer than those of the previous instruction sets. A lot more sustainable!
Group lessons
Another reason why I started using the AXIWI units is the fact that I have been teaching groups for several years. The group would like to listen to what the rider and I exchange. This is not possible with two units. The listeners then tried to sit close to me to catch some of the communication. You can connect multiple receivers with the new horse riding instruction set from AXIWI. This way, the rider and I can communicate, and the group can listen in via a third receiver connected to a sound box. I even gave duo lessons once, with a fourth unit, to two horse riders simultaneously, and audible to the listeners on the side. This way, the lessons are not only instructive for the rider(s) but for everyone. Click on this link or the photo on the right to watch the video on our Instagram account, in which you see how the Takt Academy works with AXIWI.
In short, I am delighted with the collaboration with Axitour. I recommend the AXIWI instruction set to everyone, whether you want to give private lessons with good sound and far range or regularly teach for groups.
Mireille den Hoed