AXIWI

® w

ireless communication system
for observers & coaches in sports
Coaching referees from the sideline is a real challenge without a wireless communication set. You have to shout, or you have to wait till mid-time or at the end of a match.
With an AXIWI® communication system, an observer can coach and support the young soccer referees directly during the game. Coaching with AXIWI is not limited to halftime, before or after the game. This way, the referee observer can now give tips about positioning and running lines, from the sideline. Because of this, the young and talented referee learns fast about how to position optimally. As a result; they will get more confidence and develop their skills more quickly. AXIWI® is the wireless coaching communication system for observers and coaches in sports.
 Good to know:
 Referees judges the
 AXIWI with an 8,1.
 96% of the referees
 recommends AXIWI.

PRESS Release: KAA Gent Referee Academy innovates with AXIWI
The KAA Gent Referee Acadamy keeps fulfilling its role as an innovator and educator of young soccer referees. This time with the innovative AXIWI wireless communication systems (often called headsets) for the coaching of young referees. By using the headsets, with the referees who are in training, the observer can coach the referees directly on the field.  The wireless communication system helps young referees by providing the possibility to guide faster, more direct and better. In the end, after continuous coaching, the system will help them leading games with more confidence.
VIDEO: KAA Gent referee academy innovates with AXIWI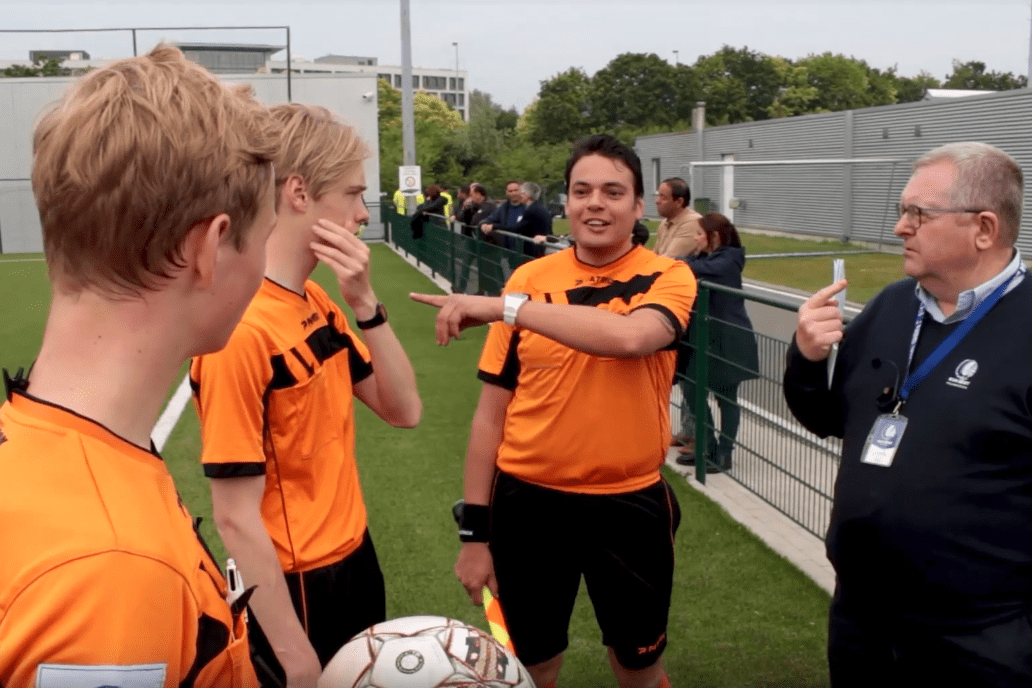 Benefits of coaching starting and talented referees with headsets
Benefits for the observer / referee coach
Give feedback to the referee in the field during the game, directly.
Referees get more confident.
More focus on coaching.
Benefits for the referee
Fast learning.
Fast development.
Fast and effective evaluation.


Fast learning curve.
Benefits for the referee academy
Professionalization Referee Academy.
Referees develop their skills faster.
Confident referees, less dropouts.
Quality improvement 'coaching' observers.
A tool for coaches to coach the referees more effective and efficient.
Opportunities coaching
Efficiently and effectively train a sporter? Continuously contacting other staff members during matches and trainings to inform each other?  From now on you will be able to use the AXIWI communication system for coaching and training. More and more coaches and trainers are using  a communication system  to instruct and give hints to sportsmen – and -women  and other staff members. The coach and the sporters/staff members all wear an AXIWI communication system. It's a wireless communication system, so the coach and the sporters/staff members can talk directly to each other, just like making a phone call.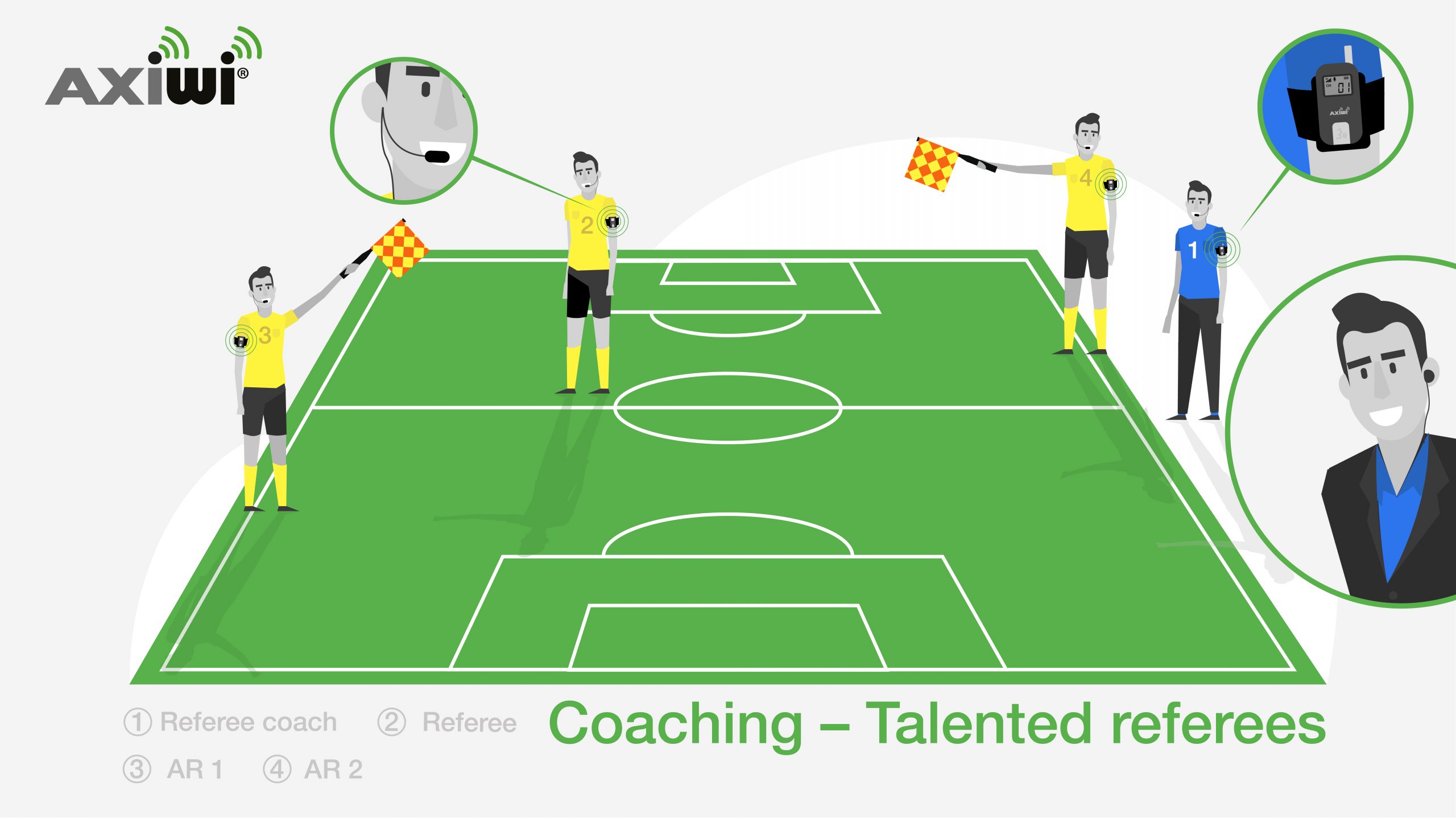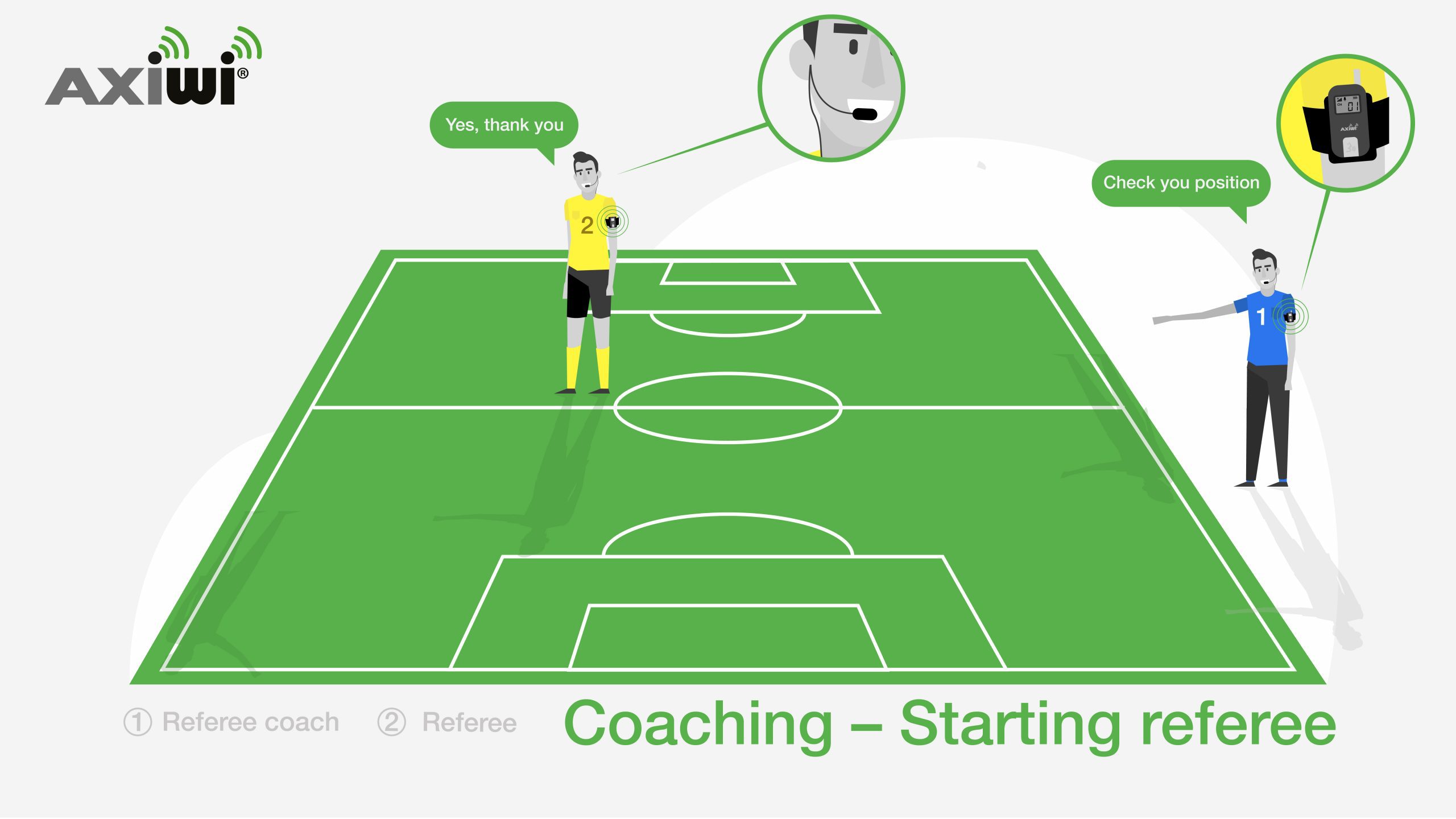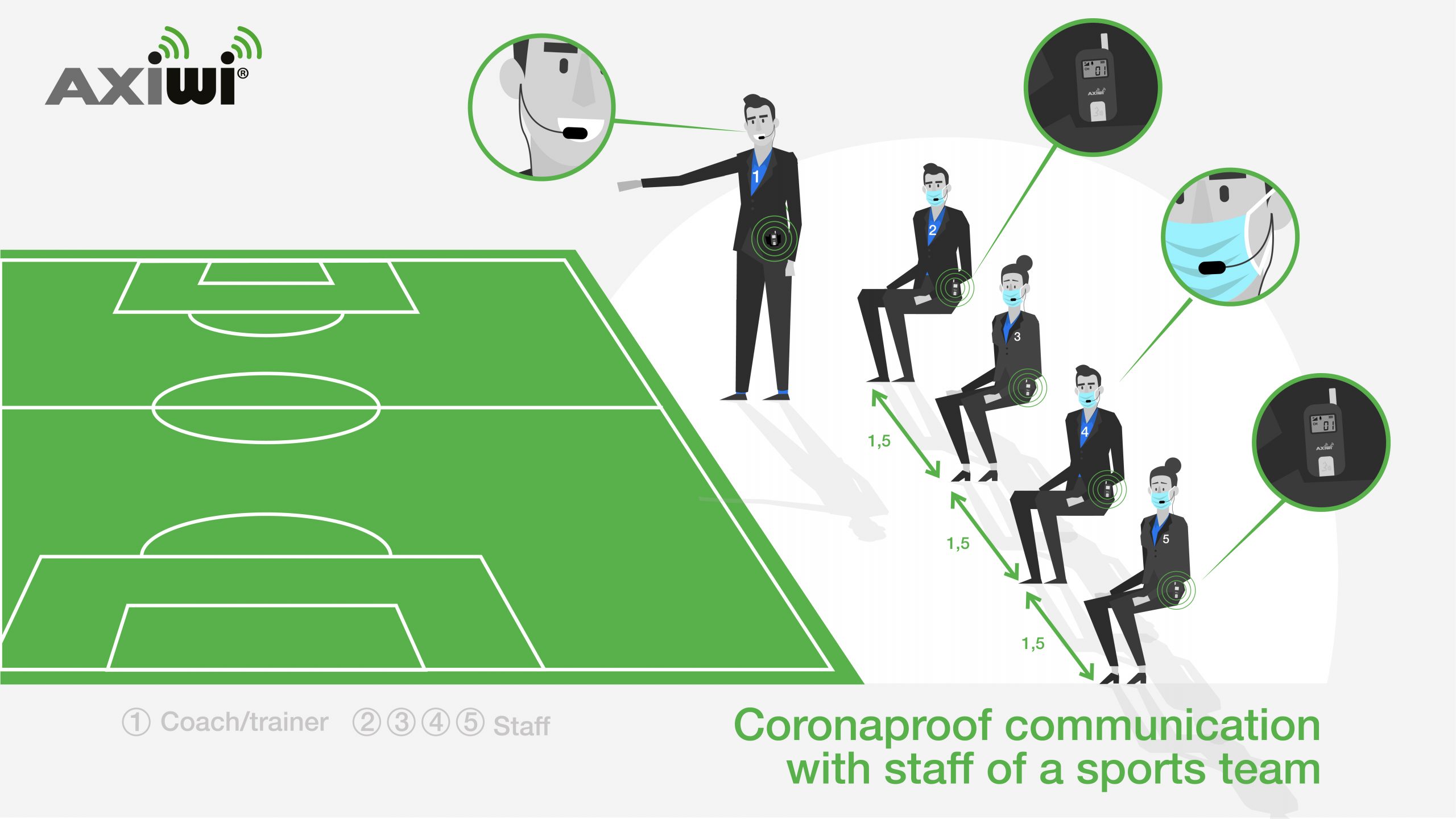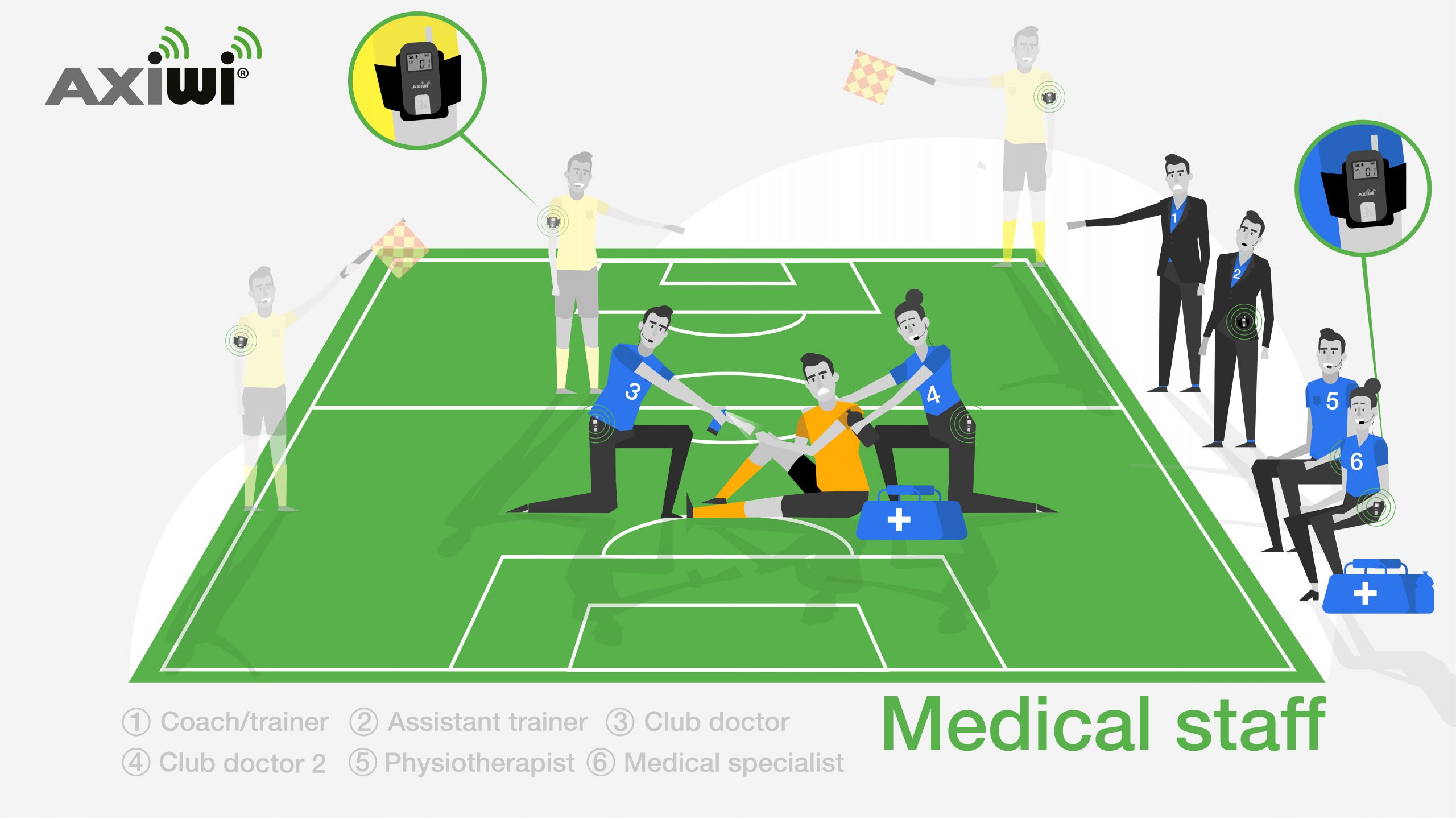 The AXIWI communication system is of value in the following situations: 
Communication between coach and sporter during training.

Communication between the coach and the assistants/staff members during a match.

Sportsmen and women, around the globe, have become accustomed to getting support from coaches, in their specific sports, to enhance their performance as they strive for excellence.

Referees, at all levels of the game, are no different, and they need to have quality input from qualified coaches, regularly, if they are going to be able to cope with the challenges that officiating in the modern game of football demands. 

It is critical to achieving excellence that there is a close working relationship between the referee and coach. A wireless AXIWI® headset facilitates perfect communication.

There must be trust, impartiality and openness and a positive learning environment with an agreed framework that incorporates continuous development, set against agreed and meaningful performance objectives.
Experience: Herman Kruis (National coach Belarus women Fieldhockey)
Herman Kruis,  current coach of Belarus women's hockey team and  former coach of the Dutch women's hockey team (2006-2008 indoor, 2008-2010 outdoor) ,used the AXIWI communication system to communicate with his staff members during the Indoor Hockey European Championship 2016.
Kruis: ''During our matches the team manager and the assistant were  in the dug-out while  the videoman and  I were  positioned high up in the stadium  to get an  overall view . The AXIWI communication system worked   perfectly  and the communication between us was really  well, even in  a crowded stadium   with more than 3,000 wild fans.'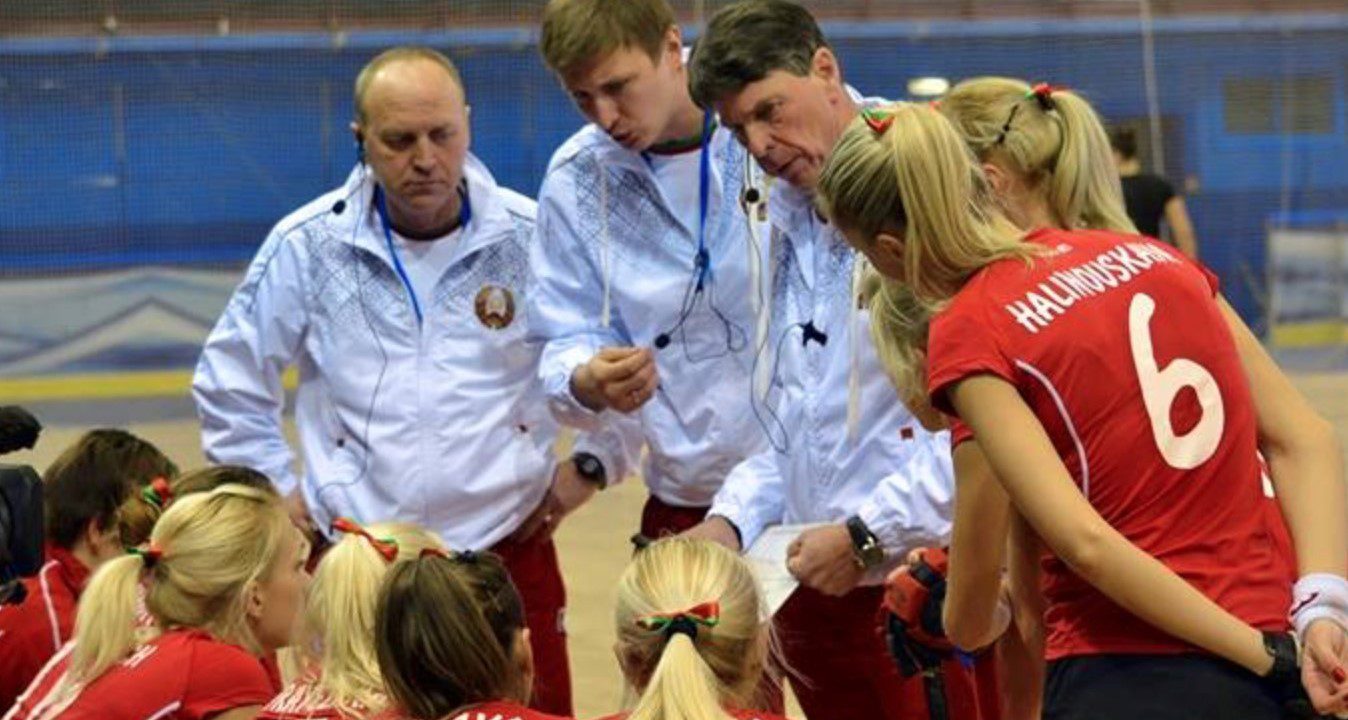 Top referees and officials whistle with AXIWI
The AXIWI communication system is already in use by the (top) referees from several international renowned sports federations.

INTERVIEW with Mark Clattenburg about the added value of using referee headsets – 19-05-2021
"It is what my wife says with a dishwasher. When you haven't got one you don't know the difference. But when you get one, it changes your life."
VIDEO: Possibilities of the AXIWI communication system in sports for referees, coaches and sports officials
Survey: Which possibilities does a communication system offers referees and sports?
Referees take more correct and faster decisions with communication system
In June 2016 Axitour Communication Systems has held a survey among referees in Holland. The referees who participated on the survey are active on all levels and in a variety of sports. To obtain the information we made a survey for referees who are working with a communications system and who aren't working with a communication system: 105 to 419.
More information about the survey: Check the webpage with the main results, the Infographic and the official Press Release of the survey.
Customer service
Any questions? We would love to be there for you!
An immediate answer? Call +31 (0)180-691 400 between 8:15 am and 5:15 pm
Mobile phone: +31 614 16 45 02 (out of working times)
Mail to: info@axitour.eu and we will reply your question as soon as possible.