We are curious to your opinion about our (AXIWI) products. It will let us know how you think about our products; what you like and don't, so we can improve our products and services. But the most important is that your opinion, your review, gives our customers a sincere opinion about our products and they can make a good informed decision.

Review and get 5% discount on your next purchase
Place the review at our website

On each productpage on www.axiwi.com or www.axiwi.de you can review by clicking on the 'review' subpage / tab of the product.
Place your rating in stars (1 to 5).
Write a clear review. Describe clear about the way you use it (the application) and what your experiences are.
Fill in your full name; first and last name.
Fill in your (correct written) e-mail address.
Press 'submit' to send your review to.
We will get a notification and have to approve the review, so it is not directly visible on the website. When it is approved it is visible on the website.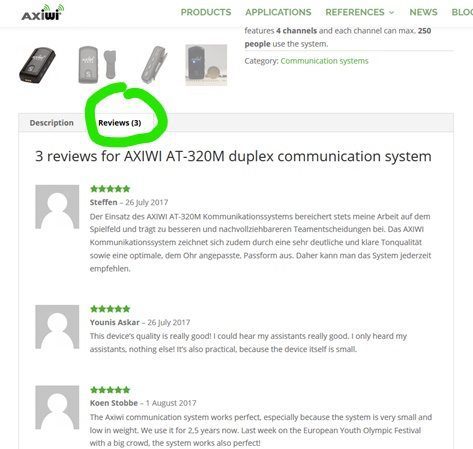 Guidelines & requirements

We give our customers a 5% discount on their next purchase if they are writing a clear review. Here are the guidelines and requirements:
The action is valid until 31 december 2017. So the purchase must take place in 2017.
Each person can use the action discount one time.
When you want to get the discount, send a print screen of your review to our customer service (your contact person). They will calculate a 5% discount on the purchase.
Write a clear review. The AXIWI communication system has many applications. A review is more valuable for us and the customers, if you describe for which application you are using it. Are you using it as referee, coach or official (in which sports) or as a sales representative with your colleagues in a plant? That is relevant information for the readers of the review to know, so please write this information in your review.