I am Koen Stobbe, 21 years old and a passionate handball referee. Together with my colleague and friend, Jaap Klompers, we travel through the Netherlands to officiate handball matches. At this moment we are referees at the highest level for women in the Netherlands and second highest level for men. We also participate in the Young Referee Programme of the EHF (European Handball Federation). We are working with the AXIWI communication system for two years now. In these two years we got a lot of experiences with leading a game by a wireless communication system. We now know how to use a communication system effective and efficient in handball games as a referee couple.
In this blog I wrote some tips and tricks for using a communication system in a good and more successful way with your referee colleague.
1. Use the headset pragmatical, try to avoid discussions. You can choose to make appointments before the game about how to communicate and to discuss some specific game situations later on (when the game is finished). For example in the changing room or when you drive home together. In this case you can imagine the situation even more. It is important to quit any (possible) wrong decisions and/or discussions during the match.
2. Use key words, this prevents you will probably miss some situations because of speaking to each other. You can fully focus on the match. An option is to make a list with key words with your colleague referee. You can choose your own words which works perfectly for you as a couple. That can be different for every sport because of the different situations. After every match it is possible to skip some words or add some.
3. Let someone listen (from outside the court), you can think in this case about a colleague or referee(coach). You can learn from tips and tricks if someone, from the side line with a fresh look, is listening to your conversations. Evaluating your game is much easier when someone heard what was said in some situations in the match. In most cases it is not useful that the one who listens, from the side line, also gives direct feedback. You can better safe this for after the match, so the referees on the field can hold their focus on the game.
4. Use the communication system in a tactical way, but… be clever. In some situations it is useful to walk by some players and communicate something with your colleague conscious. The players know you have seen something or for example that you totally agree with your colleague. If you say ''I saw exactly the same, good decision'', players are complaining less. Note: Do this in a mature way. Never  make jokes when other players are nearby and it must suit in the game situation.
5. Coach each other is very useful with a communicaton system. Also for this it counts that it should not be a discussion. Some examples of this are as follow: When concentration is less you can coach your colleague that he must be focussed all the time. Also with signalisation or situations you can coach each other in a quick way. This will improve you as a referee and as a couple.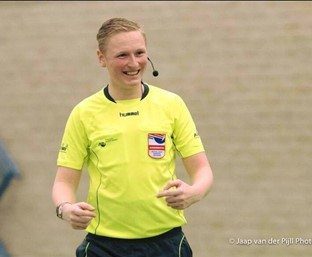 Wireless referee communication system
In sports having 2 or more referees during a match is an increasing trend, even if the matches are non-professional. To make communication between referees more effective we introduced the wireless and handsfree AXIWI Referee communication system. And the communications system is very affordable: similar referee communication systems are 5 to 6 times as expensive. In the mean time our AXIWI system is succesfully being used in sports like handball, korfball, basketball, soccer, fieldhockey, volleyball, baseball, water polo, rugby, Ice hockey, floorball, Segway Polo and Lacrosse. Click here for a total view with all the sports and possibilities.